Play equipment and features include
Cubic Tower

Climbing nets

Tunnels

Tube slides

Half-sized basketball court

Mini trampolines

Sheltered picnic tables

Generous grassed area for family picnics while the kids play. 
Packing some major wow-factor is the Cubic Tower
Positioned smack-bang in the centre of the park, the ultra-modern feat dials up the excitement by taking kids eight metres above the ground and dishes up glorious views of Melbourne's city from the top.
Resembling chunky-bumpy robot arms, two swirling tube slides descend from the tower.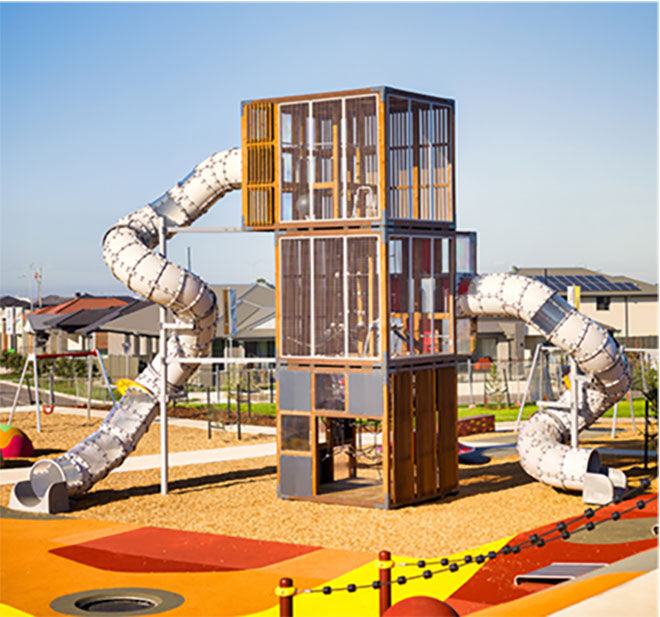 Tot-friendly tunnels and slides
With in-ground mini tramps installed within the central play arena, little jumping beans are well catered for here. And if they happen to bounce too high, you've got peace of mind knowing the surrounding deck is crafted from soft-fall rubber.
As littlies make their way around the dune-like walls of the play pit, they'll find tiered tunnels to scuttle through, rope climbs to tackle and extra-long slides to hoon down.
Don't forget to pack a ball. With a half-size basketball court on-site, sporty kids can hone their hoops and use up what energy is left after taking on the tower – ten times!
…there are more than a few perfect spots to do just that. Bring a blanket and pull up a patch of grass or take a breather with tuckered-out kids in the wooden teepee. There are also sheltered picnic tables on offer in the pavilion, which means….birthday parties! After all who wants to have 20 kids running through their house and using their bathroom. NOT ME ! 
Bright pops of colour, bucket loads of fun and a grassy backdrop. Add this one to your list, pack for the whole afternoon and get out there to check it out.
Where to visit 
Corner of Edgars Road and Kendon Drive
Wollert, VIC 3750